On this page…
What converts and what doesn't in the online biz opp world today — based on 4 years spent "in the trenches," advising clients and sending over $200,000 of my own money through hundreds of diverse sales funnels.

The lead-generation "success clue" right under your nose…. and it's not Adwords, Facebook or SEO!

Ask this question to anyone who sells "paid traffic" so you don't get ripped off…

The 5 components of a premium lead — don't pay for traffic unless you're getting all 5!

The big-ass problem with blogging… (from my painful personal experience) and why email marketing is so much easier.

How to sidestep all the dangerous risks of "unguaranteed" traffic… and get the leads you need to start building out your downline fast, totally risk-free.
---
Yep…
When I let new clients know they can get the premium-quality leads they need to rocket their business to the next level…
…without putting a single dime in danger…
I'll admit, they don't quite believe it at first.
Then I explain the same proven "traffic secrets" I'm about to share with you on this page…
..and skepticism fades away, often replaced with a breathless, "Wow, I never even knew that was possible!"
So I feel safe to boldly say…
If you're looking to grow your downline fast, fully protected from losing your shirt on expensive leads and traffic that doesn't convert, this could be the most timely and important information you ever feast your eyes on.
I'm about to share how I've personally helped "online beginners" and even some of the top marketers in the world, like Russell Brunson and Ryan Deiss and the guys at Digital Marketer®…
…make their critical lead-generation efforts totally painless and free from financial risk.
Along the way, I'll also arm you with some killer conversion boosting secrets… direct from the bloody "lead-gen trenches" where I gladly go to war for my clients week after week.
Hi, Igor Kheifets here…
And for the last 4 years, it's been my great privilege to work closely with men and women who proudly promote some of the top home-based business opportunities online.
I've been their lead-generation "secret weapon" as they've rocketed up their company rankings.

Then I've helped them stay there to enjoy the view from the top.

Anthony Robbins, the personal growth and business guru, famously says, "Success leaves clues"…

And today, a big clue is right under your nose…

You see… each of the successful marketers to the right is letting you know how you can vault to the top of your company food-chain too.

So, what do I mean by premium leads?

Well, in my experience, the ultimate biz opp lead has 5 distinctive components… and it's sensible to demand this top-quality of "dream prospect" when buying any kind of traffic…

Premium leads are open minded… and won't give you a hard time about "pyramid schemes" or your opportunity being "one of those things"…
Premium leads clearly see the leveraged power of the Internet to create wealth for their family… and they are actively looking for the proven online vehicle that's going to let them finally get ahead…
Premium leads haven't been endlessly "pitched" on your opportunity a thousand times before…. by a thousand different people.
Premium leads speak English… and they largely hail from the USA, United Kingdom, Canada, Australia and Europe.

Best of all…

Premium leads are ready to invest financially at the highest-levels to become reliable and productive downline members for you… where they will follow directions, work hard, and put regular money into your pocket.

I'll share you how you can receive a helping of these premium leads absolutely risk-free…

But first, just go there in your mind for a moment or two…

Sounds pretty good, right?

Well, unfortunately, it's not quite that easy.

Getting your opportunity in front of these hyper-responsive premium leads is a proven fast-track to business growth…

But it usually requires risking a good amount of capital upfront…

…since most high-quality "paid traffic" is completely unguaranteed.

Yes… many sellers will scream that their traffic "converts like crazy!"… yet they fall deathly silent when you ask for a guarantee.

The bottomline: they outright refuse to protect you.

So, if their traffic isn't all it's cracked it up to be… you can complain until you're blue in the face…

But they can come back at you with…

That's why, investing in "paid traffic" feels like playing with fire…

Sellers refuse to safeguard you from low-conversions… so it's easy for you to get burnt.

It's why lots of people roll up their sleeves and try to create leads from "free traffic"… only for it to steal all their spare time… just for a slow trickle of low-quality leads.

I know this from painful first-hand experience.

When I first started out online I blogged and posted on free forums every single day for 8 months.

I poured my heart and soul into it.

Yet as I learned the hard way, you've got a better shot of hitting the powerball lottery than ever finding a superstar new recruit from free traffic.

(Yep, "free traffic" is free for a reason! It gets harder by the day to build a loyal audience who listens to you when there's over one billion websites online…)

"Plain & Simple, Igor's Traffic Converts!"

"…500 Clicks, 8 Sales!"

"Igor Gives You Conversions!"

"…One Of The Best Lists I've Ever Mailed!"

"…300 Clicks, 7 MTTB Sales!"

"#1 Person I Buy Clicks From Every Month"

"Igor, Your Subscribers Are Awesome!"

"100 Clicks, 4 Sales"

"Thanks To Igor, My Optins Shot Up From 22% To 46%!"

"Igor's Traffic Just Amazing!"

"I Couldn't Close High Ticket Sales Without You, Igor, Thank You!"

"500 Click Solo Brought In 12 Sales!"
Way faster… because "premium" paid traffic is the warp-speed superhighway to biz opp success.
It let's you powerfully move your business forward within days, and sometimes just hours or minutes, as hundreds of super-qualified, super-responsive leads discover your opportunity.
Even if you start out small (which I recommend) you can "scale up" very quickly and take your results into the stratosphere.
Plus… it's much easier to fork out for paid "filet mignon" traffic when you know you're fully protected from "low-conversions"…
So you can grow your business safely, with full peace-of-mind that your traffic investment won't come back to bite you…
Before I share exactly why this "risk-free" route to business-growth is now wide open to you, I want to reassure you…
It doesn't matter where you're starting out from…
My client list includes well-known marketing heavy-hitters like…
…Russell Brunson, Ryan Deiss' "Digital Marketer®" company, Todd Brown (aka. Rich Schefren's conversions optimization COO), Lee Mcintyre, Michelangelo Lopez, Miles Segers, Paulo Barroso, Emilis 'Emka' Strimaitis, Devon Brown, Justin Popovic, Paul Lynch, Daegan Smith, Anthony Tilley, Chad Hamzeh, Alex Jeffreys, Alex Shelton, Kenny James, Jason Parker, Alby Koster, Lourens Haasbroek…
…along with dozens more Internet Marketing "legends" and success stories.
I don't tell you this to "name-drop."
Just to give you confidence that you should listen to me about boosting your lead generation in the biz opp market or affiliate marketing.
These guys have almost a combined century of marketing experience under their belt… so I'm proud they turn to me to fuel even faster profit growth.
I also love working with marketers who are just starting to build their legend…
People like Andrew Croot who joined a new company after struggling to break through online for years. Now he's making a full-time income almost exclusively with the traffic I'm sending him. Now he says this is…
"The most excited I've ever been!"
Or David and Pamela Rzoska, who came to me with virtually no lead-gen experience whatsoever, but it didn't matter.
I gave them access to a giant pool of premium prospects, totally risk-free… and the results speak for themselves. Since then, they've ranked as high as 19th on the entire company leaderboard of thousands!
"I don't think it would have been possible to take our
business to the next level without the help of Igor…"
They came to me with virtually no lead-gen experience whatsoever, but it didn't matter.
I gave them access to a giant pool of premium prospects, totally risk-free… and the results speak for themselves.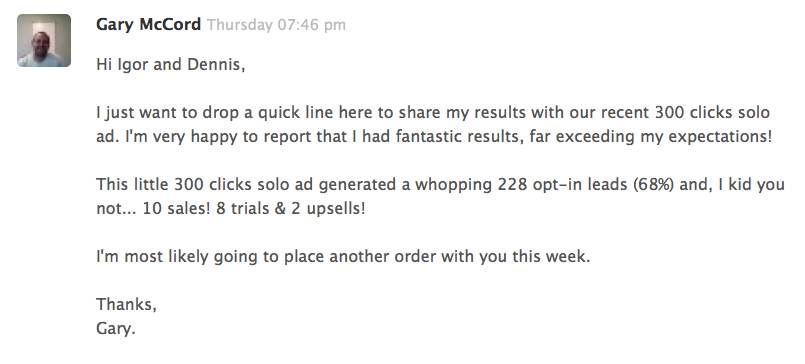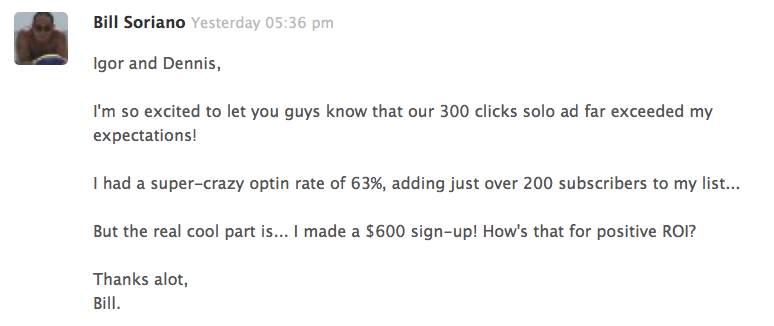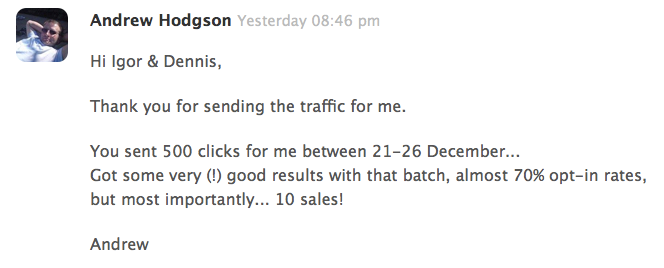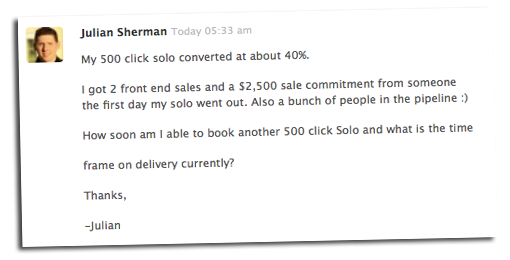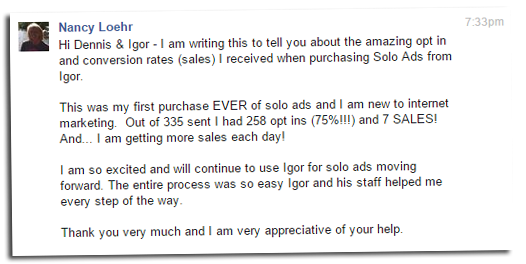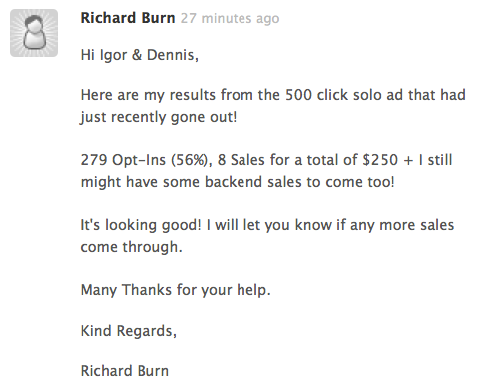 Now, let me answer the biggest question of all…
The short answer is: because my traffic converts. Period.
It's been proven time and again to reliably generate high-quality opt-ins… sales… and downline members.
But let's dive deeper…
Because before you claim your risk-free leads below… I want you to know why exactly why my traffic consistently delivers the safest and most predictable results in the online biz opp space.
It starts with my use of proprietary "self-liquidating" sales funnels.
I've invested over $200,000 of my own money into testing and refining these killer funnels… with a single laser-focused goal:
To create the most highly-responsive "biz opp friendly" email lists online…
…chock full of untapped, fresh prospects… keen to learn more about your offer and opportunity.
(BTW… this is the absolute opposite of what's known as "SPAM." My lists are created solely through "permission based" email marketing. Every prospect on my email lists "opts in" and requests to hear from me regularly, because they want to hear about business opportunities like yours. Although few do, they are free to "opt-out" anytime they like. In stark contrast… SPAM is evil, ineffective and illegal!)
Importantly…
I also replenish and refresh these email lists on a DAILY basis, so they are always stacked high with piping-hot prospects.
This is all to create the "ultimate audience" for biz opp marketers like you…
And it's why established marketers like Ben Settle happily pay me to promote their products and services to a segment of my email list.
Some people like to refer to these promotional emails as "Solo Ads."
I've actually been called "Mr. Solo Ad!" by my clients because when I've promoted their opportunity to my email lists, they've gotten such stellar results.
If fact, if you search the Google keyword tool for "Solo Ads" my name pops up as a synonym…
(Not because I'm some fancy "marketing guru"… but simply because I've dedicated years of my life to mastering the art of generating premium biz opp leads available online.)
Moreover… I go to great lengths (and I've consistently made steep investments in systems and mentoring) to ensure prospects on my email lists are primed to respond positively to your business opportunity.
When you apply below to receive your risk-free traffic, I'll also send you a free consumer awareness message I've prepared.
It's yours in PDF format and MP3.
Inside I share…
5 costly misconceptions about solo ads… as I've proved for years, they can be the most simple, fast and effective lead and traffic source around.
4 recommendations that can make you even more money from any Solo Ad purchase… like any traffic source, there's ways to squeeze extra leads from Solo Ads, and I'll share how I help my clients do exactly that.
6 quick questions you should "copy & paste" and ask any solo ad provider before you buy traffic from him or her… one of these will shock you, the others aren't shocking at all, they just make a lot of sense.
More and more savvy marketers are finally catching on and using "Solo" traffic to ignite their businesses. My client list proves that.
Inside this exclusive guide, I give you the low-down to how to tell the difference between lousy Solo traffic… and high-quality traffic… before you ever hand over your hard-earned money.
In fact, after just a quick skim or listen to this guide, you will be know how to confidently start using the power of Solo Ads to get more leads than you know what to do with!
Check out the extraordinary lengths I go to so my traffic always delivers the goods…
I build my email list by tapping into the most potent online sources available, where enthusiastic and open-minded business opportunity seekers come together. Lots of traffic sellers only use "free traffic" to build their lists, so they only attract freebie seekers. In contrast, a large part of my list building efforts utilize "paid traffic" sources… so I fill my lists with quality subscribers who are far more likely to invest real money in their future.
The proprietary "self-liquidating" sales funnels I use to build my lists ask people to "raise their hand" as a serious prospect for any business opportunity. This way I'm able to prequalify people so we only promote your biz opp to premium prospects and leads, ready to take action.
My biz opp friendly email lists are ruthlessly refreshed and replenished with new leads every single month. If a prospect isn't responding to offers for any reason they get politely kicked off my list!
New leads are "nurtured" by me—in my email communications—so they see a clear path to changing their life via a business opportunity like yours. Yes, I leave nothing to chance. The folks on my list are ready 'n' waiting to hear about your opportunity right now…
I only accept a certain number of traffic orders per month, so not to overload my list. Lots of folk who sell traffic impose no limits or common sense restrictions on how many times they mail their list. That's bad news for you because prospects quickly get tired of being pitched to over and over. While my prospects are always "oven fresh" and open to your offer.
I persuasively "pre-sell" your opportunity to a high degree, before a prospect even clicks through to discover more details. The emails I use to promote your biz opp offer to my list are a product of my investing over $80,000 in my copywriting education since 2011. I've worked with household name experts and "gurus" like John Carlton, so I know how to prime my subscribers to welcome your opportunity with open arms.
WARNING!
(or get ripped off by shady traffic sellers…)
Anytime you wisely invest in "paid traffic" to build your business, ask the seller if they will block traffic from India, Nigeria, Pakistan or Kenya.
Generally speaking, people in these countries lack the disposable income needed to purchase from you, which can crush the quality of the traffic you're buying.
If a traffic seller does agree to block these countries, but only for a steep fee… don't walk, run!
When my clients request I block these countries, I do so at no extra cost whatsoever.
This gives my clients a higher lead quality and a stronger chance to convert sales, while significantly decreasing their advertising and lead-gen costs.
NOTE: For a token additional fee I can also "geo-target" your risk-free premium leads if you need to promote your offer to a particular country like the USA, the United Kingdom, Canada or Australia.
In the unlikely event my traffic doesn't deliver the goods…
It's even better than a refund, that leaves you in no greater shape than when you started…
I'll personally help you tweak your offer (or assist you in creating an entirely new, better offer) and then re-send your offer to my premium leads FOR FREE.
This is why I have so many repeat clients…
Because I've got their back 100%…
In fact, I'll help you any way I possibly can, because your success is my success…
I'll be glad to help.
What converts best in the biz opp world today?
Obviously, anyone with the answer to that question can make a killing.
So, what's my answer for you?
Well, a "new" opportunity that people haven't seen before is always well received…
However… more established opportunities can convert extremely well too, so long as you put a brand new spin on them.
That's why, before we promote you and your opportunity to my email lists, my team and I work with you for no extra charge to evaluate your offer… see how it can be improved… and help you make any necessary changes.
This can be a rewarding and eye-opening experience, since we often identify tiny tweaks you can make to your offer that can open the floodgates to higher conversions.
We'll even sculpt you an entirely new "squeeze page" totally free of charge… simply to guarantee 100% that you get results.
The marketplace is a moving target. Which is why we monitor and stay on top of things in the biz opp space so obsessively. So our finger is always on the pulse of what's working right now.
I've tested many thousands of web pages and offers to my lists, so there's no need for guesswork or "hunches", I know what's converting best because I've tested it using my own personal money.
That's what my team and I are here for.
We will gladly share extremely simple video tutorials that will walk you through the entire "lead-getting" process step-by-step.
If there's any technical element you need help with, just ask… it's our pleasure to help.
We all had to start somewhere!
And I want to make it easy for you to get started, without having worry about any tech stuff.
Most clients I work with start off with a limited budget. Their goal is to make money right away and then "scale up" using their profits.
I love this path to profit-growth… it's extremely safe and sensible.
In fact, it's the exact same "start slow" approach I've always used in my own online businesses.
I begin small… then when I see something working like gangbusters, I immediately scale up.
So if you want to start off small, I'm with you.
Better yet, I want to help you start small, totally risk-free.
Then you can scale to infinity when the conversions keep comin'…
Some traffic sellers may try to nudge you toward splashing out on big initial purchases… but that's because they know you won't be back!
In stark contrast… expect zero pressure from me whatsoever.
I've been in your shoes and I recommend you start small… because I'm so confident my conversions will bring you back.
Remember…
My traffic converts… or it's FREE.
Seriously…
I demand your traffic purchase with me delivers, or you pay nothing!
Now you know that red-hot, risk-free leads are a reality…
The choice is yours to make…
If you're an established leader I can help you stay on top… blow past your current ceiling… get to #1… and show everyone else how it's really done… (your secret source of premium leads for you and your team can just be our little secret if you'd prefer…)

If you're just setting off on your journey to the top… I can help you become an admired leader in your business and an amazing bread-winner at home… as you rocket up the ranks of your company like a blur…
They'll see someone "on the rise" like a thermometer about to explode in the sweltering Miami sun…
…someone who's mastered the art of creating "passive income"…
…while everyone else struggles to breakthrough. Unsure how to get the leads they need to reach the top.
If you haven't filled out the simple no-risk form below yet to claim your risk-free leads, that's my bad.
I can't have done a good enough job of explaining that these red-hot leads are yours… totally risk-free.
If you need leads to fuel your business growth this is your opportunity to get those leads while maintaining full peace of mind.
Starting today, the sky's the limit…
Truly, anything is possible for you and your business-growth…
But one thing I can predict for certain:
You WILL get positive results from my traffic or you pay nothing!
Even if your business is stalled right now… quicker than you imagine… you can accelerate out of the mud and up your company leaderboard.
And the best part… nothing and no-one can stop you.
Maybe you know the feeling…
It's the end of the month…
You just made it to the top of your company leaderboard…
You feel great… you're the champion… you can take a deep breath as you soak in the applause.
But then you realize…
Crap! If I don't get the new sign ups I need for next month… it could all come crashing down around me.
Without a reliable source of new leads, before you know it, you've lost your spot at the top of the mountain.
It's a very real risk… but I can take all those worries off your shoulders.
Now… I'm going to give you access to "the source" of endless leads.
So everything you've worked so hard for can never be ripped away from you.
From today forward…
You never need to worry where your next superstar sign up is coming from…
Even better…
I can help you supply your team with traffic too…
…so your business grows at high speed…
…and no-one can ever give you any excuses about "not having enough leads"… because I can give you and your team all the leads you need… and totally risk-free to boot!
Today… I'm giving you access to the "secret source" of leads that the big guys use to get to the top and stay there…
…and you can get started without putting a single dime in danger.
With nothing to lose and everything to gain, I invite you to reach out to me and my team using the simple no-obligation application form below.
Remember those words of wisdom from Anthony Robbins, "Success leaves clues."
All the people on this page took advantage of this risk-free offer. They're thrilled with their results.
They didn't look a gift horse in the mouth… they chose to act, and why the heck not?!
There's just upside. You can't lose. I'm shouldering all the risk after all.
Let's do this.
I'm excited to help you reach the next level in your business.
Fair warning: I preserve the quality of my traffic by only promoting a limited number of opportunities to my list each month, so fill out the form below right now to avoid standing in a long waiting line.
In addition, slots are always booked up ahead at least 3-6 weeks… and the more you delay, the longer the line becomes ahead of you.
Even if you're an action-taker… there's other action takers who are acting right now. So please, for those reasons, don't delay in accepting this risk-free offer.
Dedicated to your success,
P.S. I guarantee you results so your and traffic purchase is entirely risk-free. So you can put your offer or opportunity in front of white hot prospects without that voice in the back of head whispering… "what if it doesn't work?!"
Because, well, if it doesn't work, no biggie!
My traffic converts… or it's FREE!
It's really that simple.